Transform insights into

service innovation.
is the platform of artificial intelligence and cognitive technologies that allows companies and governments to understand the real needs of people from their digital expressions and make decisions based on insights and relevant knowledge.
See how it works:
People
People use digital platforms to publicly express their opinions.
360 million manifestations collected
21 countries monitored
Sources
We capture millions of texts in real time, from diverse sources, and we also connect to public data sources and proprietary databases.
Twitter
Facebook
Instagram
LinkedIn
YouTube
ReclameAqui
News
Google Reviews
Artificial intelligence
Our artificial brain extracts contextual information and generates insights from what is being said by people.
Sentiment
Text categories
Urban-social categories
Custom categories
Demographic data
Subjectivity
Emotions
Geolocation
Topics
Solutions
We deliver the insights generated in various products to meet different demands.
Innovation in products and services
Anticipate trends in people's consumption habits to develop the most desired products and services, increasing income and accelerating innovation in the organization.
New business
Thoroughly research new markets, segment performance and regions to make the best decisions in expanding your business and in the development of new products.
Customer understanding
Know how and what your customers are talking about, discovering what their true needs and desires are.
Customer experience
Evaluate customer satisfaction based on models that go far beyond sentiment analysis.
Costs reduction
Save time and gain speed by conducting market researches quickly and cheaply, generating automated reports and managing all your social media accounts in one place.
Efficient communication
Obtain meaningful insights for the development of market campaigns and monitor your results in real time, In addition to diagnosing crises in their initial phase.
Competitive intelligence
Analyze your competition, identifying their strong and weak points to discover opportunities and evaluate risks.
Daoura Insights
Platform of charts, analysis and automated reports to visualize the insights generated by the Daoura intelligence.
We go beyond traditional social listening tools by offering, on a single platform, solutions for social listening, action management and interactive analysis, allowing to anticipate society trends and discover new opportunities for your organization.
With Daoura Insights you'll have access to:
Platform for analytical insights and visualizations.
Social media account management tools.
Generation of insight reports.
Topics and competitors comparator.
Customized text classifications.
Alerts of behavioral variations in topics and words.
Fill form below to try Daoura Insights
Daoura Reports
The insights reports from Daoura, customized to your needs, deliver a complete analysis about social thematics, urban categories, sentiment, engagement and objectivity of digital manifestations, from the scope of study defined by your organization.
On-demand studies made by our data scientists that seek to answer questions on your organization.
Elaboration of specific analyzes and personalized visualizations.
Direct contact between your organization and Daoura during project development to align expectations.
Use of proprietary databases, which, combined with public data, generate much more powerful analysis.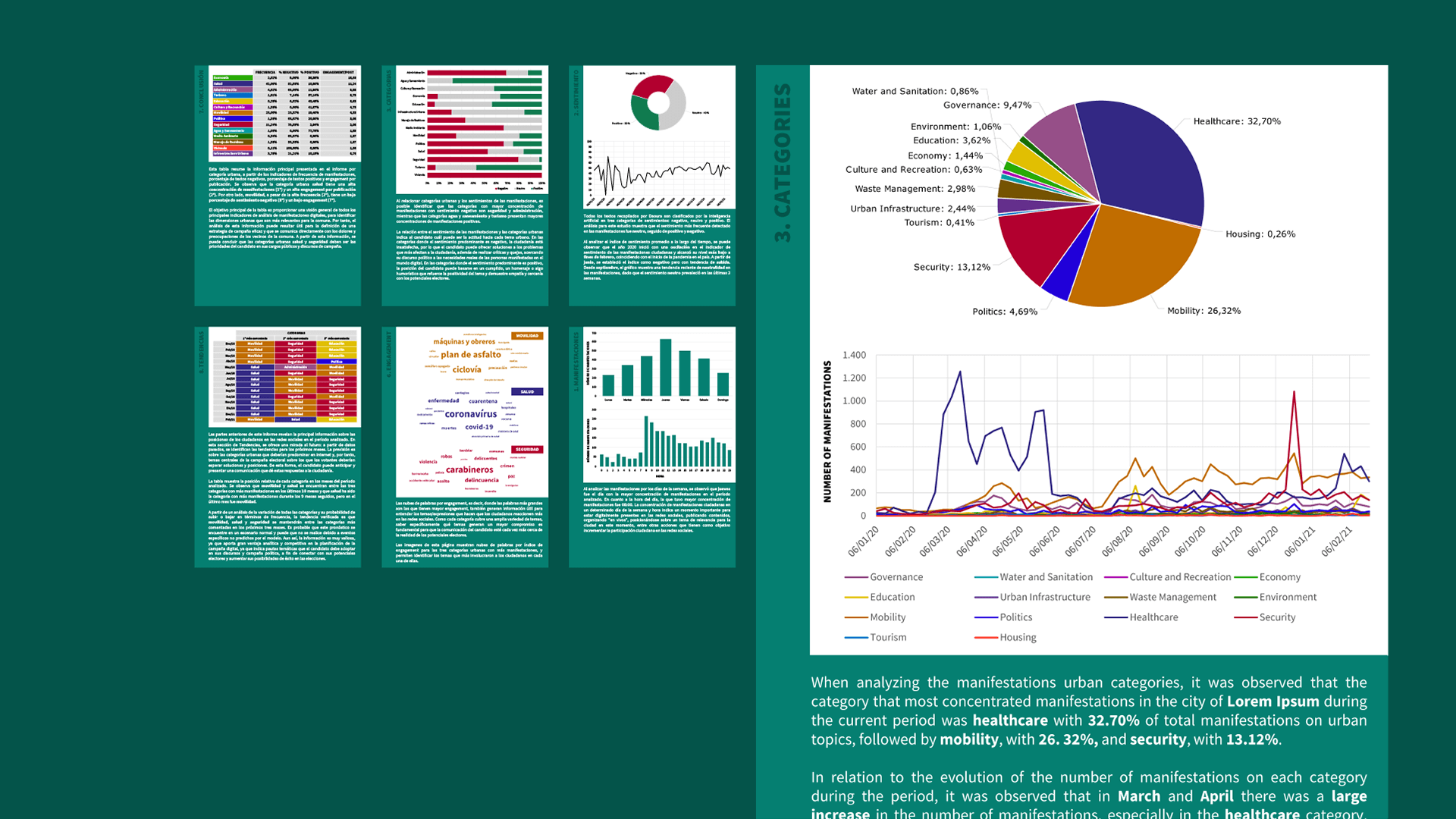 Fill in fields below to download the report (in Portuguese):
Daoura Data
Obtain data processed by the Daoura intelligence in a fast and safe way, and have flexibility in your analysis. You can use Daoura to:
Process proprietary text with Daoura intelligence, and extract contextual data such as sentiment, words and expressions, text categories, geolocation and more.
Receive the data collected and processed by Daoura directly via API or via file.
You can use Daoura Data on different use cases, for instance, monitoring complaints on social networks about your organization's customer service, and receive them through data available on the cloud via API, with the contextual information extracted by Daoura, to integrate with your management system or to generate studies and reports.
Daoura Citizens
Daoura Citizens brings an innovative experience of citizen participation in digital debates, by using artificial intelligence to interpret citizens' digital manifestations and generate insights that allow them to participate in conversations about their surroundings and about the topics that interest them.
The platform allows users to know what people think and talk about local issues in their community, in addition to participate in digital debates with Citizens' participation tools. Additionally to reading the manifestations on social networks and on the news, users can send their own manifestations and enhance other ideas through the "potentialize" button, experiencing a new and unique experience of digital participation.
For organizations, the tool allows the creation of thematic campaigns to build a community around the theme and allow people to participate in debates about it.
Access, explore and participate: citizens.daoura.ai
Daoura Analyzer
Daoura Analyzer is a component of Daoura's artificial intelligence platform that generates relevant insights about main topics dealt with in a text. Using our human language processing technology, Daoura Analyzer extracts contextual data and searches our database of more than 360 million manifestations to calculate metrics and deliver relevant information about the analyzed text.
Fill out form and we'll send our analysis
...or use our Twitter Bot
Reply to a tweet mentioning @DaouraAnalyzer and we'll deliver our analysis to you.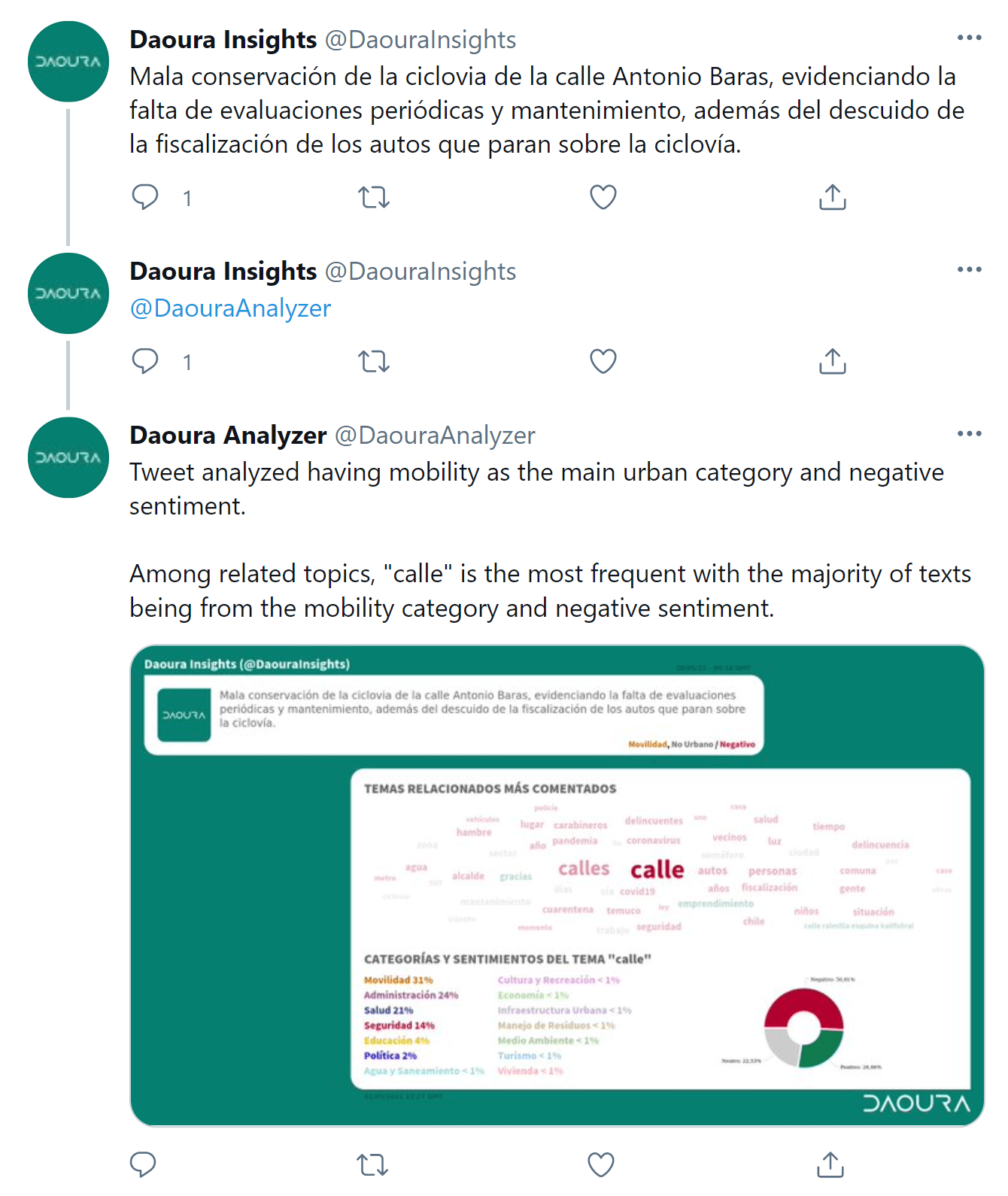 Drop us a line
Use the form below or contact us through hi@daoura.ai.