Transform data into

service innovation.
AI.Transforma
Did you know that Artificial Intelligence can help you bring answers to the uncertainties that exist in your business? And did you know that your own data is the fuel for this?
At Daoura, we believe that your company's data, when not used properly, can make you miss opportunities to gain competitive advantage by implementing technological solutions based on machine learning and transform your processes and decisions.
For this, we have developed AI.transforma framework, a kind of map or conceptual scheme, which guides companies of different sizes and market segments to make effective use of their data and bring digital transformation, to that the uncertainties of your business are transformed into concrete and differentiated actions and decisions.
Datalization

Structure your data and understand the wealth of information you have in your company.

Cognition

Develop predictive models that respond to your business uncertainties.

Integration

Integrate models with your software, dashboard and operational processes.

Action/decision

Make informed strategic decisions and automate operational tasks to gain efficiency.

Transformation

Transform your strategy and processes based on what your data shows.
Daoura has the expertise to guide your company throughout this journey. For us to get to know each other better and learn how we can help your company, choose one of the following options below, based on the current situation of your business:
Social.Sensing

Daoura Insights

Platform of charts, analysis and automated reports to visualize the insights generated by the Daoura intelligence.

We go beyond traditional social listening tools by offering, on a single platform, solutions for social listening, action management and interactive analysis, allowing to anticipate society trends and discover new opportunities for your organization.

With Daoura Insights you'll have access to:
Platform for analytical insights and visualizations.
Social media account management tools.
Generation of insight reports.
Topics and competitors comparator.
Customized text classifications.
Alerts of behavioral variations in topics and words.
Fill form below to try Daoura Insights
Social.Sensing

Daoura Reports

The insights reports from Daoura, customized to your needs, deliver a complete analysis about social thematics, urban categories, sentiment, engagement and objectivity of digital manifestations, from the scope of study defined by your organization.
On-demand studies made by our data scientists that seek to answer questions on your organization.
Elaboration of specific analyzes and personalized visualizations.
Direct contact between your organization and Daoura during project development to align expectations.
Use of proprietary databases, which, combined with public data, generate much more powerful analysis.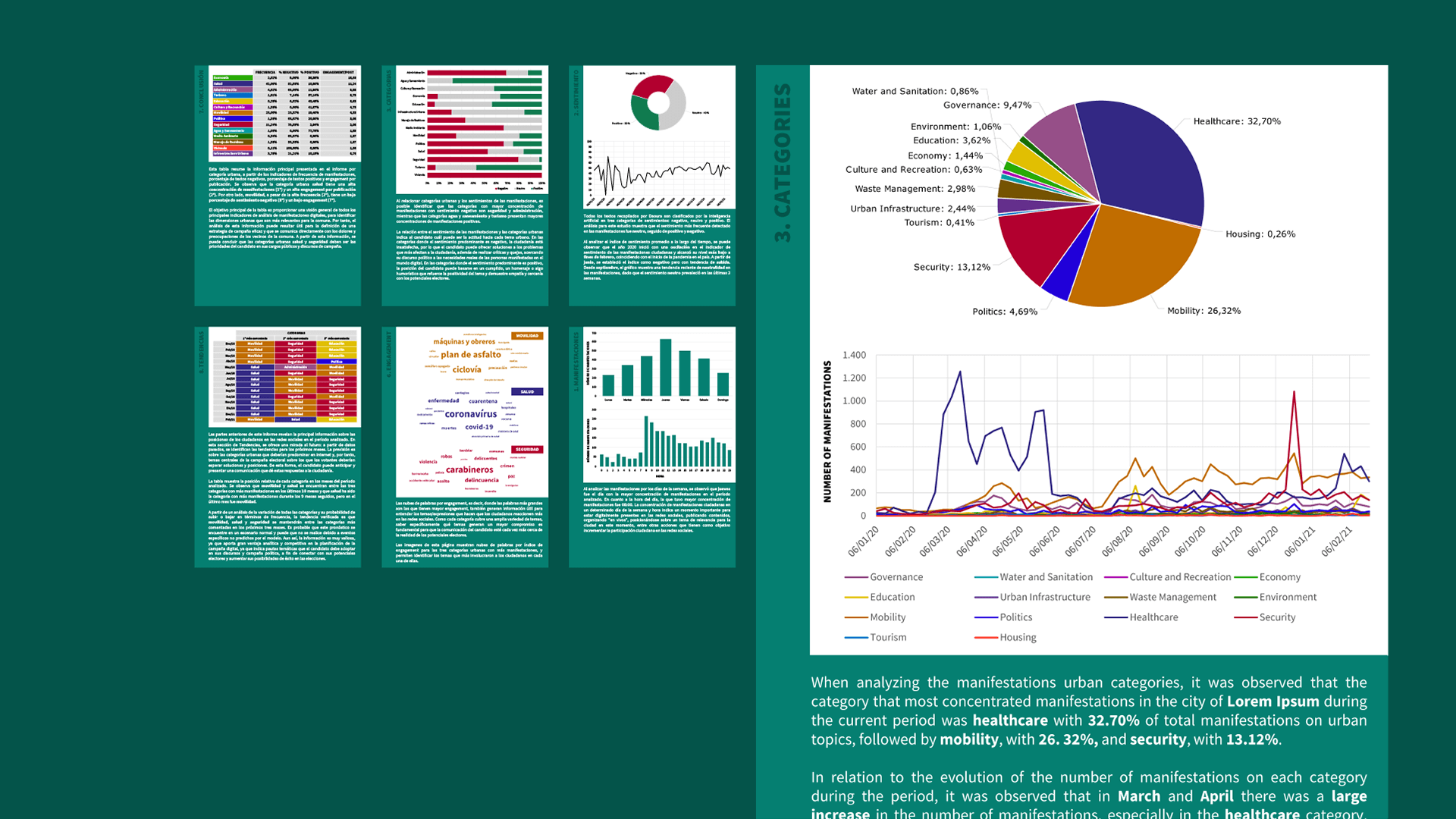 Fill in fields below to download the report (in Portuguese):
Social.Sensing

Daoura Data

Obtain data processed by the Daoura intelligence in a fast and safe way, and have flexibility in your analysis. You can use Daoura to:
Process proprietary text with Daoura intelligence, and extract contextual data such as sentiment, words and expressions, text categories, geolocation and more.
Receive the data collected and processed by Daoura directly via API or via file.
You can use Daoura Data on different use cases, for instance, monitoring complaints on social networks about your organization's customer service, and receive them through data available on the cloud via API, with the contextual information extracted by Daoura, to integrate with your management system or to generate studies and reports.
Social.Sensing

Daoura Citizens

Daoura Citizens brings an innovative experience of citizen participation in digital debates, by using artificial intelligence to interpret citizens' digital manifestations and generate insights that allow them to participate in conversations about their surroundings and about the topics that interest them.

The platform allows users to know what people think and talk about local issues in their community, in addition to participate in digital debates with Citizens' participation tools. Additionally to reading the manifestations on social networks and on the news, users can send their own manifestations and enhance other ideas through the "potentialize" button, experiencing a new and unique experience of digital participation.

For organizations, the tool allows the creation of thematic campaigns to build a community around the theme and allow people to participate in debates about it.

Access, explore and participate: citizens.daoura.ai
Drop us a line
Use the form below or contact us through hi@daoura.ai.