Potentialize voices
to transform decisions.
Connect to people's perceptions from social understanding in the digital world and create value for your organization and for society.

How can we help you?
Daoura Insights
is the platform that uses the power of artificial intelligence and cognitive technologies so that companies and governments understand people's real needs from their digital manifestations, and make decisions based on relevant insights and knowledge.
We go beyond traditional social listening tools by offering, on a single platform, solutions for social listening, action management and interactive analysis, allowing to anticipate society trends and discover new opportunities for your organization.
See how it works:
People
People use virtual platforms to publicly express their opinions about urban and social problems.
Sources
We capture millions of texts in real time, from different sources, and we also connect to public, government and corporate data sources.
Artificial intelligence
Our artificial brain extracts topics, contexts and generates insights from what is being commented on by people.
Daoura Insights
We deliver insights on a platform that allows powerful visualizations, analysis and reports.
Smart management
By using Daoura Insights, companies and governments access qualified information and knowledge to make smarter decisions.
Its benefits
Anticipate trends

With our insights, you understand tomorrow from a proper look at today.

Discover opportunities

Keep your organization connected to society's movements and identify opportunities to act.

Create shared value

Achieve a sustainable position by aligning your business with social demands.
And potential applications
Real-time
analysis

Quickly monitor relevant social topics of the moment, receive alerts and notifications, and act proactively.

Identification of
hidden topics

Discover topics beyond superficiality from correlations and in-depth analysis.


Exploring risks
and opportunities

Identify social contexts that can become business opportunities or represent risks.


Do you want
to try it?

Action
management

Organize your actions internally and act on them by assigning tasks and engaging your team.

Impact
study

Assess the impact of your actions based on the manifestations of people on the internet and the engagement generated.
260MM+

analyzed
texts

8MM+

potentialized
voices

21

monitored
countries
Fill form below to try Daoura Insights
Daoura Reports
The insights reports from Daoura, customized to your needs, deliver a complete analysis about social thematics, urban categories, sentiment, engagement and objectivity of digital manifestations, from the scope of study defined by your organization.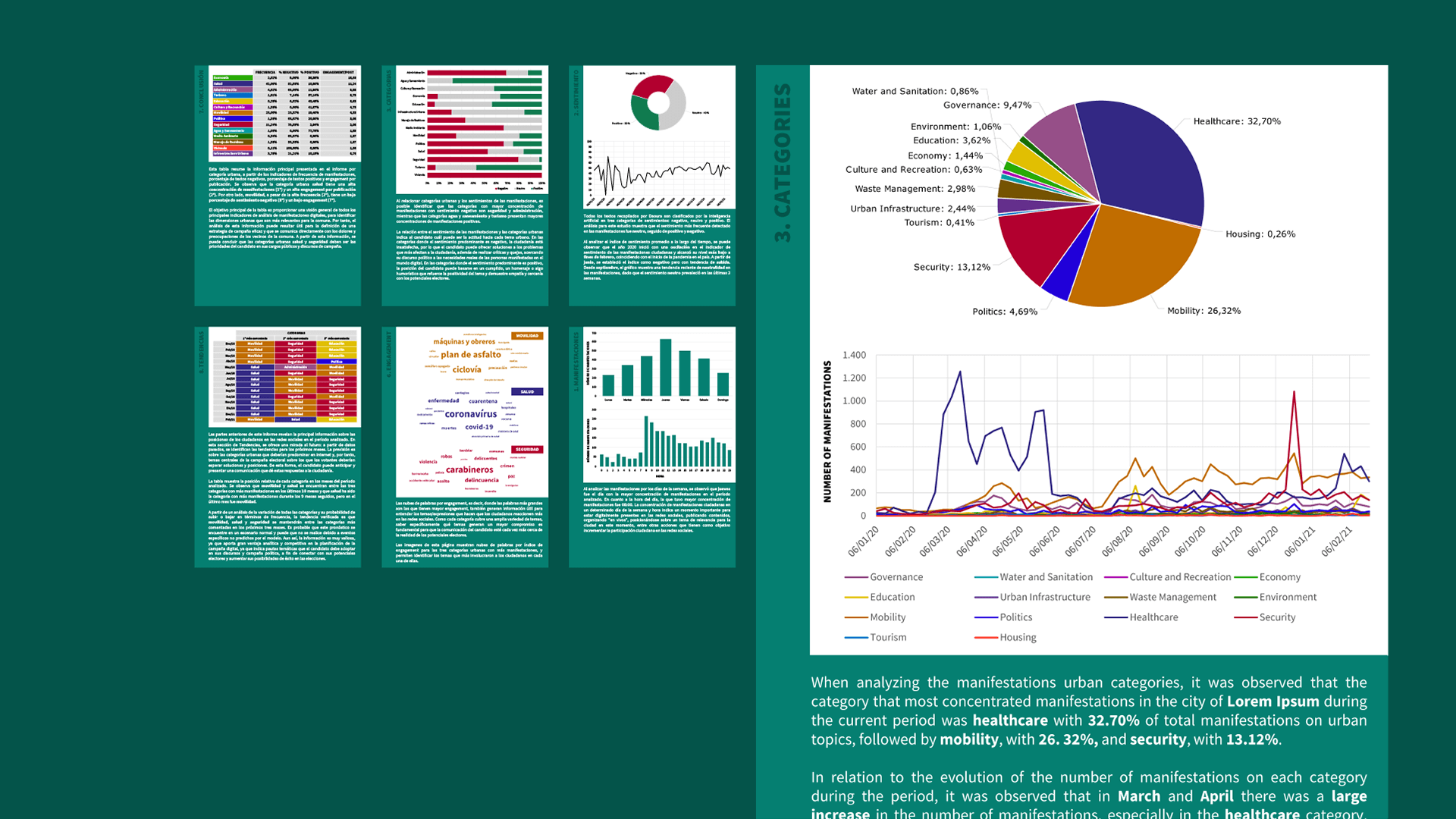 Daoura Analyzer
Daoura Analyzer is a component of Daoura's artificial intelligence platform that generates relevant insights about main topics dealt with in a text. Using our human language processing technology, Daoura Analyzer extracts contextual data and searches our database of more than 200 million manifestations to calculate metrics and deliver relevant information about the analyzed text.
Fill out form and we'll send our analysis
...or use our Twitter Bot
Reply to a tweet mentioning @DaouraAnalyzer and we'll deliver our analysis to you.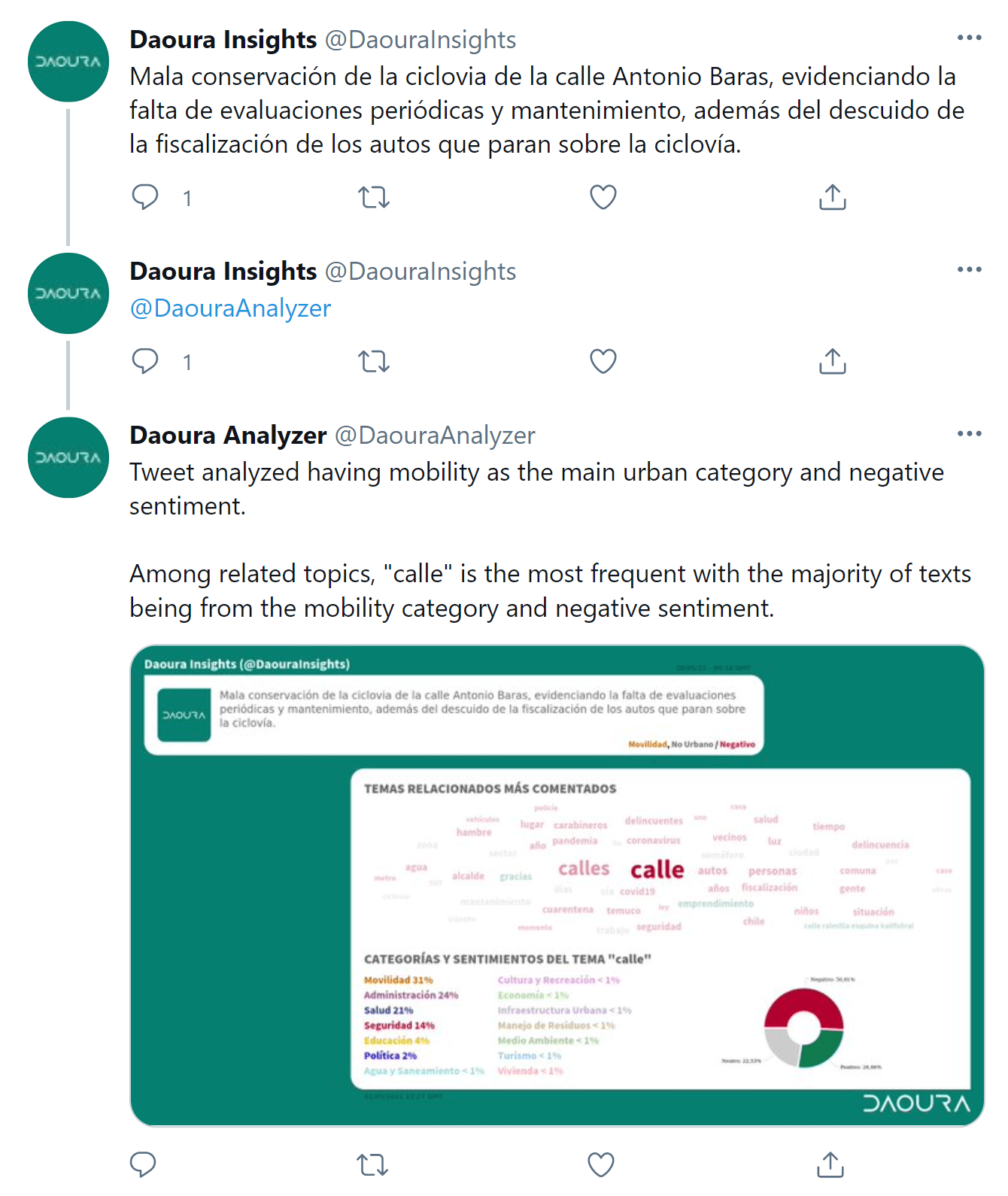 Daoura Citizens
Daoura Citizens brings an innovative experience of citizen participation in digital debates, by using artificial intelligence to interpret citizens' digital manifestations and generate insights that allow them to participate in conversations about their surroundings and about the topics that interest them.
The platform allows users to know what people think and talk about local issues in their community, in addition to participate in digital debates with Citizens' participation tools. Additionally to reading the manifestations on social networks and on the news, users can send their own manifestations and enhance other ideas through the "potentialize" button, experiencing a new and unique experience of digital participation.
For organizations, the tool allows the creation of thematic campaigns to build a community around the theme and allow people to participate in debates about it.
Access, explore and participate: citizens.daoura.ai
Drop us a line
Use the form below or contact us through hi@daoura.ai.